Computer Labs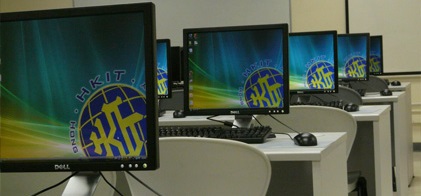 There are two computer laboratories in the Institute. The computer laboratories are located in the Sham Shui Po Main Campus and CSW teaching centres. Over 60 desktop computers, which are some of the best in the market configuration.
The laboratory has been equipped and maintained at high academic standards and further resources will continue to be allocated for upgrading the equipment. We provide high performance broadband network to enable our network to access the Internet, and the core network is based on optical fibre network.
The computer laboratory is installed with a wide range of software packages. Standard installation of computer in the laboratory includes:
Operating System: Microsoft Windows 10
Documentation Editor: Microsoft Office 2016
Security products and firewalls, browser tools etc.
On request the Information and Technology Services Team also provides the software from subscribed Azure Dev Tools for Teaching, Open source: software and etc.
The availability of a wide range of software resources has enabled the students to acquire the necessary computer skills.