Library Services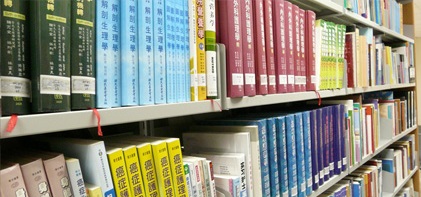 Library is an essential component of the academic infrastructure of HKIT in supporting teaching and learning as well as researching in the areas of business and management,accounting and finance, marketing and advertising, hotel and tourism management, computer and information technology, nursing and health studies, crime and investigation etc.
LIBRARY SERVICES
HKIT Library offers a wide variety of services, such as:
information and library support to students and academic staff members
library tutorials and orientation programmes for students and academic staff members
assistance to students and academic staff members on the access to electronic resources
liaison with academic staff members on library collection development
liaison with professional bodies regarding sharing of library resources via student membership arrangement
liaison with partner universities in joint development of electronic library
liaison with the alumni in their life-long learning
LIBRARY FACILITIES
In order to provide a comfortable learning environment for students, HKIT has set up a library in Sham Shui Po main campus ground floor. A wireless local area network is also available in the Library. Photocopying machine equipped with Octopus payment machine system is installed. Students are constantly educated and reminded of the copyright issue with the aid of a warning notice posted next to the machine and also uploaded on the library website.
LIBRARY RESOURCES & COLLECTIONS
Library collections include both printed and electronic resources. Users can search the library holdings via the electronic library online catalogue. Currently the catalogue contains records of more than 8,000 items, which include both English and Chinese materials. Most of the library materials are available for loan. Users can easily access the electronic library online catalogue for book searching, reservation, and renewal services.
Users can use the workstations in the library to access the teaching CDs, DVDs. Study guides, research reports/projects and past examination papers are also available as well as the newspaper clippings of HKIT Presidents' articles from the "Education and Career Development Forum". Through HKIT's website (www.hkit.edu.hk), users can gain access not only to the library system but also to electronic resources, e.g., selected free Internet resources, electronic journal databases and electronic books subscribed by HKIT as detailed below.
Around 600 items of language learning reference materials which includes Cantonese, Putonghua, Japanese and English languages of reference books, dictionaries, CDs, DVDs, TV programs, movies, Putonghua and IELTS examination papers, newspapers, journals, and magazines are available in the library. These materials are sponsored by Quality Enhancement Grant Scheme of the Education Bureau.
ELECTRONIC RESOURCES
Besides the 40 titles of hard copy periodicals, the library has subscribed to the electronic journal databases for conducting academic research and assignment preparation – EBSCO databases.
EBSCO e-Journal databases includes:
Business Source Elite (full text for over 1,000 business publications and more than 10,100 substantial company profiles from Datamonitor)
Regional Business News (full text of more than 80 regional business publications within the United States)
ERIC, the Education Resource Information Center (more than 1.3 million records)
Library, Information Science & Technology Abstracts (LISTA) (indexes more than 560 core journals, nearly 50 priority journals, and nearly 125 selective journals; plus, books, research reports and proceedings)
Teacher Reference Center (indexing and abstracts for 280 of the most popular teacher and administrator journals and magazines)
GreenFILE (covering all aspects of human impact to the environment and provides indexing and abstracts for more than 384,000 records, as well as Open Access full text for more than 4,700 records)
OpenDissertations (an open-access database built to assist researchers in locating both historic and contemporary dissertations and theses)
EBSCO e-Books Collection includes (over 210,000 titles):
Business Studies
Accounting & Finance
Cyber Security & Investigation
Criminology, Policing & Forensics
Hospitality, Tourism & Event Management
Computing & Information Sciences
Health Care
Other subjects
University of West London e-Books Collection includes (1m+ e-books):
The University of West London has partnered with Perlego to provide students with access to UWL online library e-books
Unlimited access to 1m+ e-books
Ability to download up to 30 books to read offline on the mobile app
Study features like note-taking, highlights, and bookmarks
IBM SPSS Software have also been installed in the library for conducting statistical related academic research and assignment preparation.
Students can consult with their teachers on accessing to the services and resources of the partner UK universities. In addition, electronic resources copyright warning is posted on the notice board and uploaded on the library website to heighten users' awareness of the copyright laws.
PRESENT DEVELOPMENT OF THE LIBRARY SERVICES
HKIT Library is continuously striving to provide a comfortable learning environment for students and to deliver an efficient and effective service through quality-conscious staff. The Library also serves as a bridge between the institution and the alumni. The "one-alumnus-one-book donation campaign" is an example. The purpose of this campaign is three-fold. Firstly, it aims to maintain a close relationship between the Institution and the alumni. Secondly, the library collections can be enriched and enlarged. And lastly, the library services can be an effective means to encourage and help the alumni in their life-long learning. As a result, they may further their studies towards higher degrees or professional qualifications.
Library Instructions
General Library Information
For Research and Assignment Preparation
Subject Information
Self-Learning Materials
LIBRARY OPENING HOURS
Monday to Friday
9:00 am – 7:00 pm
Saturday
2:00 pm - 6:00 pm
Sunday and Public Holidays
Closed
LIBRARY CONTACT