資源及設施
圖書館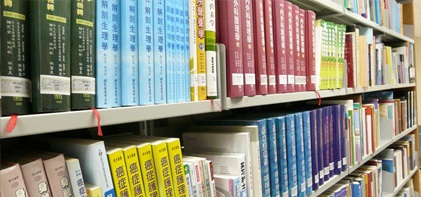 圖書館是教學和學術研究重要的一環,以輔助及提升本校師生在學習和科研為使命。圖書館支援的領域包括商業及管理、 會計及財務、市場及廣告、酒店及旅遊、電腦及資訊科技、護理及健康科學犯罪及調查及其他學科。
圖書館服務
圖書館提供多種服務,包括:
對師生提供資訊及圖書館支援服務
對師生提供圖書館導修及迎新服務
與教學人員保持緊密聯繫,合作發展圖書館的藏書
與專業團體合作,協助本校學生申請學生會員資格,以求共享圖書館的資源。
與合作伙伴大學聯合開發電子圖書館服務
協助本校畢業生及提供資源以達成終生學習
圖書館設施
圖書館位於深水埗總校地下,內設座位及電腦工作站,學生可以在館內使用無線區域網絡。 圖書館亦裝設八達通付款的影印機方便學生使用,但學生必須注意影印書本版權上的規限。 版權條例已經張貼在影印機旁及上載至圖書館網頁,以作參考。
圖書館資源及館藏(只供英文版本)
Library collections include both printed and electronic resources. Users can search the library holdings via the electronic library online catalogue. Currently the catalogue contains records of more than 8,000 items, which include both English and Chinese materials. Most of the library materials are available for loan. Users can easily access the electronic library online catalogue for book searching, reservation, and renewal services.
Users can use the workstations in the library to access the teaching CDs, DVDs. Study guides, research reports/projects and past examination papers are also available as well as the newspaper clippings of HKIT Presidents' articles from the "Education and Career Development Forum". Through HKIT's website (www.hkit.edu.hk), users can gain access not only to the library system but also to electronic resources, e.g., selected free Internet resources, electronic journal databases and electronic books subscribed by HKIT as detailed below.
Around 600 items of language learning reference materials which includes Cantonese, Putonghua, Japanese and English languages of reference books, dictionaries, CDs, DVDs, TV programs, movies, Putonghua and IELTS examination papers, newspapers, journals, and magazines are available in the library. These materials are sponsored by Quality Enhancement Grant Scheme of the Education Bureau.
電子期刊數據庫(只供英文版本)
Besides the 40 titles of hard copy periodicals, the library has subscribed to the electronic journal databases for conducting academic research and assignment preparation – EBSCO databases.
EBSCO e-Journal databases includes:
Business Source Elite (full text for over 1,000 business publications and more than 10,100 substantial company profiles from Datamonitor)
Regional Business News (full text of more than 80 regional business publications within the United States)
ERIC, the Education Resource Information Center (more than 1.3 million records)
Library, Information Science & Technology Abstracts (LISTA) (indexes more than 560 core journals, nearly 50 priority journals, and nearly 125 selective journals; plus, books, research reports and proceedings)
Teacher Reference Center (indexing and abstracts for 280 of the most popular teacher and administrator journals and magazines)
GreenFILE (covering all aspects of human impact to the environment and provides indexing and abstracts for more than 384,000 records, as well as Open Access full text for more than 4,700 records)
OpenDissertations (an open-access database built to assist researchers in locating both historic and contemporary dissertations and theses)
EBSCO e-Books Collection includes (over 210,000 titles):
Business Studies
Accounting & Finance
Cyber Security & Investigation
Criminology, Policing & Forensics
Hospitality, Tourism & Event Management
Computing & Information Sciences
Health Care
Other subjects
University of West London e-Books Collection includes (1m+ e-books):
The University of West London has partnered with Perlego to provide students with access to UWL online library e-books
Unlimited access to 1m+ e-books
Ability to download up to 30 books to read offline on the mobile app
Study features like note-taking, highlights, and bookmarks
IBM SPSS Software have also been installed in the library for conducting statistical related academic research and assignment preparation.
Students can consult with their teachers on accessing to the services and resources of the partner UK universities. In addition, electronic resources copyright warning is posted on the notice board and uploaded on the library website to heighten users' awareness of the copyright laws.
圖書館的發展
本校圖書館將盡力提供一個舒適的學習環境、透過專業的員工,為學生帶來有效率的服務。圖書館也作為校友與學校的橋樑,"一畢業生一本書" 捐贈計劃是一個好的例子。 其目的有三方面:第一、它可以保持學校與校友間的聯繫。其二,圖書館的藏書得以豐富。最後,圖書館可以作為動力,提供資源,鼓勵校友的終生學習,以協助他們獲取更高學歷和專業資格。
讀者指導(只供英文版本)
General Library Information
For Research and Assignment Preparation
Subject Information
Self-Learning Materials
圖書館開放時間如下:
圖書館聯絡
進入英文版圖書館及電子資源